Yesterday I had the privilege to sit in the audience of a taping of the TV-series "The Big Bang Theory".  The show is about a group of nerdy and smart guys and their female neighbour Penny. The jokes run high about everything from Star Trek and comic books to complicated theories in physics. Unfortunately we weren't allowed to bring any cameras, so I have no pictures from the studio to show you.
After having read recommendations online, I went out to the Warner Brother Studios early and was in the line by 2 pm (the show started at 6.30 pm). This turned out to be a good strategy because even though I had a confirmed ticket (as opposed to others who only had stand-by tickets) there were already almost 50 people in the line. Being on a show for the first time, I didn't think of bringing a book or something to pass the time with. So it was a couple of boring hours before they escorted us inside at 4 pm. to start the check-in process.
My place in the line resulted in a perfect spot in the audience, right in front of Sheldon's and Leonard's appartment. A comedian entertained us throughout the evening, and it all started with a showing of last weeks taping. Since season 5 hasn't started in Sweden yet I won't reveal what happened!
When the taping begang the entire cast presented themselves to screams and applauds that could have brought down the house! The actual shooting went extremely fast and smoothly. You can tell that the series is on it's fifth season since it all progressed with few hickups. A maximum of 2, sometimes 3 takes was all that it took. This mostly because the director wanted to try different nuanses in the lines. It was only a few times which the actors lost their lines.
Halfway through we were offered pizza and water, and between takes there was a lot of games and entertainment, both from the comedian and the audience. Unfortunately, the episode we were watching did not have that much focus on Sheldon and the guys geeking around (which I love), but a special appearance of a bird resulted in some challenges from both trainers and actors alike, which was extremely fun to watch.
The taping took three hours, from start to end, but it felt like only one! After the final curtain call I was determined to try and get some autographs, and I did! Kunal Nayyar, who plays Raj, stayed for a while signing for his fans. Unfortunately he was the only one from the cast doing so. The comedian also gave out a few signed photos with autographs from the entire cast, and I managed to snagg one of those as well!
Now I will have to wait patiently until the episode is aired back home in Sweden. Who, knows, maybe I will hear my own laughter? Because laughed I have! So much in fact that I am a bit hoarse today! I would like to do this again!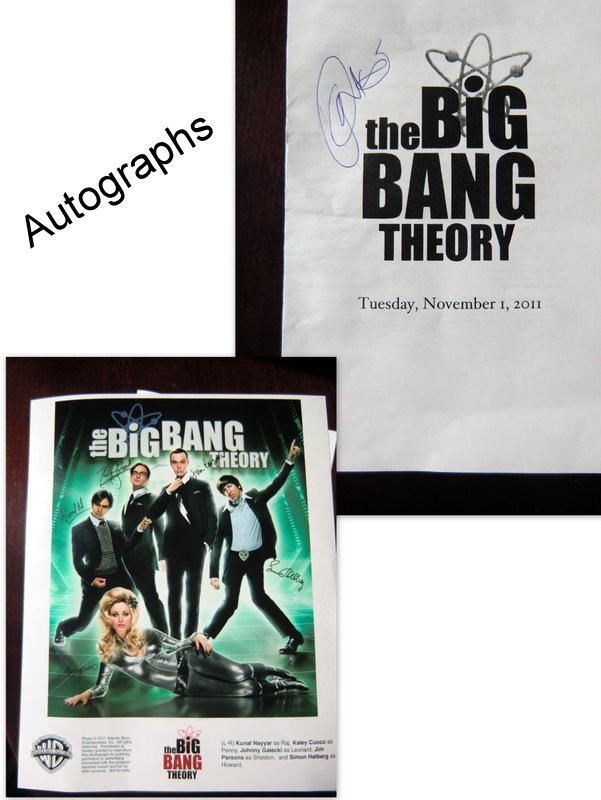 Related posts: